There's an intriguing, new
Dexter promo
from the folks at
The Movie Network
, that takes a page right out of
HBO's Guide to Creative Social Media Marketing
. For my friends south of the border, The Movie Network is the channel that carries
Showtime
's
Dexter
in Canada.
This promotional contest gets you to choose between being a
suspect
,
hero
or
victim
, and the application uses your
Facebook
profile to generate a news story about you. I chose victim, and of course, the story has me being murdered due to my obsession with watching TV. Typical. In case this turns out to be a creepy case of foreshadowing, I'd like to leave my DVD and Blu-ray collection to... on second thought, I think I'll have them buried with me.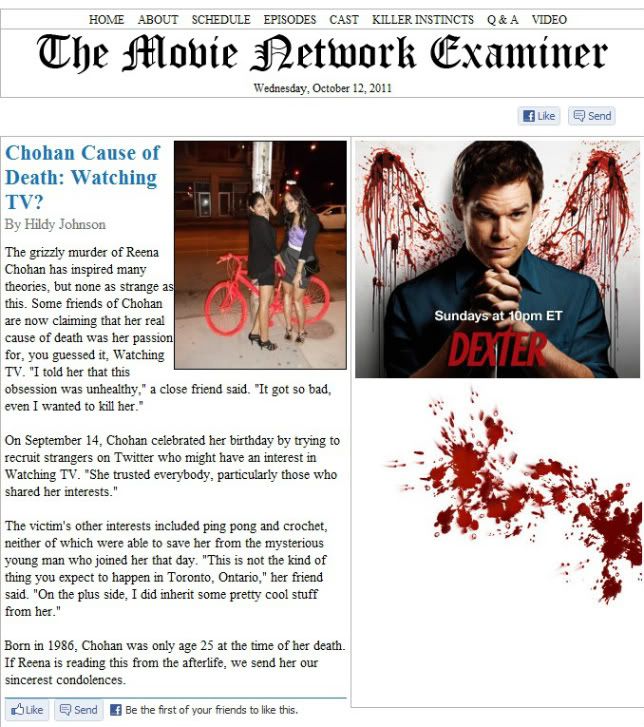 Almost forgot to mention that by participating in this promo, you're entered into a contest for 1 of 10 Dexter-themed prize packs. Not going to lie, it's rewarding enough (for me, anyway) just to be immortalized in print for the (obviously-fake, but nonetheless super-cool) Movie Network Examiner.
The only social media element that's missing is an option to tweet my news article. My only options to spread the word are to, 'like' it on Facebook, without a personalized status update, or to send it as a private message to Facebook friends. But no tweet button. Kind of missing out on a pretty big opportunity there.
Update:
Someone at The Movie Network must have been listening, because a comment-er brought to my attention that as of yesterday, you can now tweet your news article.