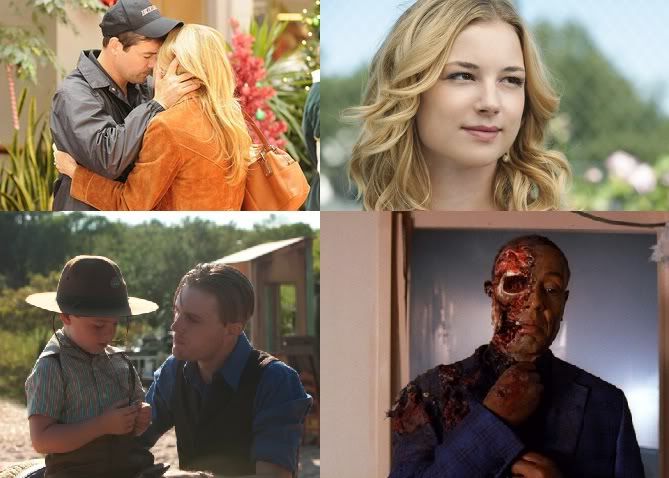 Photos via hitflix, fanpop, tvfanatic, thedailybeast.
I'm hesitant to call this a Best-of-2011 TV list, because let's be honest, I don't watch every show on TV. I'm picky about what I choose to watch and hardly watch half-hour sitcoms so even though I may chuckle at a passing episode of
Happy Endings
, I much prefer the one-hour intensity of a TV drama. So instead, let's call this what it is: one culture junkie's take on the best shows of 2011.
Oh, and
SPOILER ALERT.
Friday Night Lights
One of the most realistic (if you pretend season 2 never happened), heartwarming, and artfully written television shows came to an end this year after five seasons of disappointingly low viewership. When Coach Taylor said his final "Clear Eyes, Full Hearts, Can't Lose", I'm not ashamed to admit my stomach was in knots and tears were inevitably streaming. I've never been so emotionally attached to a cast of characters before - there will never be a family quite like them. And of course, saying goodbye to Riggins was pretty much heartbreaking.
Revenge
Officially the guilty pleasure show of 2011 and what I consider to be the best new show on network TV. A prime-time soap complete with enough secrets, betrayal and treachery to keep any soap lover content. Takes place in the Hampton's, where elite socialites and lavish parties provide the backdrop for some very juicy scheming.
Boardwalk Empire
The last three episodes of season two were absolute, jaw-dropping, game-changers. When Angela was taken out, we knew that no one was safe and that it was a definite possibility that the main characters we came to love over the past two seasons could potentially start dropping like flies. As cringe-worthy as the penultimate episode was (
incest is really having a moment right now on TV
), and even though we knew a showdown of sorts was coming, nothing could prepare us for the torture of having to see Nucky actually put two bullets into the man he pretty much raised. Well, at least we still have
Richard Harrow
.
Breaking Bad
Hands down, the best hour on television right now, with the most satisfying season finale I've seen on TV, maybe ever. Plus, the plot twist in the very last scene was completely unexpected and disturbing. For four seasons, we've watched the once-timid, cancer-ridden chemistry teacher evolve into a ruthless criminal capable of unimaginable lows. And I can't reference this season without at least mentioning the shocking death scene of arguably the creepiest bad guy to ever exist on television - Gustavo Fring, who literally got his face blown off à la
Walking Dead
.