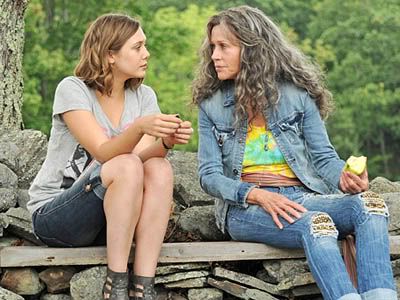 Indiewire.com
A multi-generational family comedy,
Peace, Love & Misunderstanding
seems perfectly content with being a pretty predictable and lighthearted story with some drama thrown in for good measure. Diane (
Catherine Keener
) is an uber-conservative Manhattan lawyer, unhappily married and on the cusp of divorce. She decides to take her two children, Zoe (
Elizabeth Olsen
) - a college girl who loves animals as much as she loves poetry and big words, and Jake (
Nat Wolff
), an aspiring filmmaker who's obsessed with documenting everything, to visit their grandmother Grace (
Jane Fonda
), who they've never met. Grace is an eccentric hippie, stuck in the 1970s, with a passion for protesting, new-age healing crystals and of course, weed. It's a bit hard to believe that it's been 20 years since mother and daughter have seen each other, especially since they live in the same state. It's just not believable.
Almost too instantly, Diane's brood starts letting loose, although Diane, more reluctantly so, taking part in all the fun that Woodstock has to offer, including the occasional war protest and full moon ritual. Grace ends up yanking each character out of their tough shell, and somehow arranges a love interest for each of them. Diane falls for a local carpenter, sometimes-musician, and full-time dreamboat (
Jeffrey Dean Morgan
), Zoe finds herself struggling with her growing attraction to a butcher (
Chace Crawford
) who
naturally
has the soul of a poet. Even Jake gets a local girl.
Despite all of the film's formulaic shortcomings, it was hard not to love the cast.
Jane Fonda
shines in a role that seems tailor-made for her, and she plays it with a spunk and charisma that brought life to every scene she was in. Newcomer
Elizabeth Olsen
is a pleasure to watch, continuing to live up to her hype as the latest it-girl. We're not talking Oscars here, but still, it was cute.