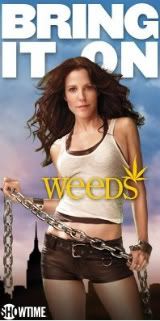 The 7th (it's been that long?!) and perhaps final (although that's not confirmed) season of
Weeds
kicks off this Monday with Nancy in prison and her long-suffering Botwin brood in far-away Denmark. How will she weasel her way out of this one, you ask? Well, of course, in true
Nancy Botwin
fashion, she'll get out - pretty obviously - because
Prison Break
this ain't.
A lot has happened over the past six seasons, and it took something like one rent-a-cop, two husbands (one who happened to be a DEA agent), a scorned (and psychotic) PTA-mom and pissed-off Mexican drug lords, to take down this Baroness of Bud. If you've never tuned into
Weeds
before, WATCH IT. From the beginning, so you can see the comically dark masterpiece that was the first three seasons.
And if you're already chronically addicted, then this animated summary of the first six seasons will only work to get you more excited for our favourite dysfunctional family's return to TV.
Showtime
, I love you for making this video.